Wine Shop Now Open in Mooresville, NC
Thistle Meadow Winery's newest wine store is now open in downtown Mooresville, NC. Our shop offers all the wines - over 60 in all - that are available at the winery's tasting room in Laurel Springs, as well as select Ashe County Cheeses, wine accessories and home winemaking supplies.
Visit us at 240 N. Main Street (across from the Charles Mack Citizen Center) for a tasting of your favorite red, white, or blush/sweet wines, ranging in taste from dry to sweet. A wine tasting of 5 wines only costs $5 and includes a free souvenir wine glass.
Connect with our shop on Facebook, so you can keep up with all the specials and events.
Our wine shop, with its beautiful cherry bar and comfortable seating, is also available to host private parties. Please call us for details, or to arrange a tasting at your location.
Thistle Meadow Wines
240 N. Main Street
Mooresville, NC 28115
Phone: 704-660-9803


View Larger Map
Our hours of operation in Mooresville are:
Wednesday 4:00 - 9:00 PM
Thursday & Friday 2:00 - 9:00 PM
Saturday 12:00 Noon - 10:00 PM
Closed Sunday, Monday & Tuesday
(Open for private parties / events)

Call the shop at 704-660-9803 to reserve your function!
The wine shop is closed on Easter Sunday, July Fourth, Thanksgiving, Christmas, and New Year's Day. We accept Visa, MasterCard, Discover, and AMEX credit cards.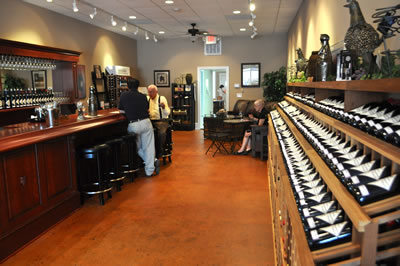 Interior of Mooresville wine shop
If you are ever in the Triad area, we invite you to check out our other wine shop in Kernersville, NC.