A Mountaintop Wine Experience
New Year's Holiday Hours: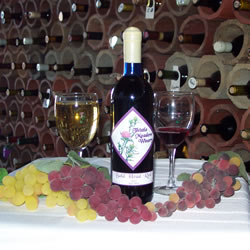 - Thurs, Dec. 31 - Open 12-2 pm
- Friday, Jan. 1 - Closed
- Saturday, Jan. 2 - Open 12-4 pm
- Sunday, Jan. 3 - Closed
The tasting room will reopen with normal winter hours on Monday, January 4th.
Located in the heart of the Blue Ridge Mountains, Thistle Meadow Winery offers individualized tours of our family-owned winery. Our tours include tastings of wines made from grapes grown around the world.
We create a wide variety of red, white, and blush/sweet wines, ranging in taste from dry to sweet.
Our award-winning wines are hand-crafted in small batches to ensure the highest quality. Just recently, we were ranked third among North Carolina wineries by the South Eastern Winery Review and scored a perfect "10" in friendliness.
Our winery also offers unique wine accessories, Thistle Meadow Winery clothing, and gift certificates.
Thistle Meadow Winery is located just off the Blue Ridge Parkway (milepost 246) in Laurel Springs, North Carolina and is open for your convenience:
In Season (April 1 - October 31)
Monday - Saturday 12:00 - 5:00 PM
Sunday 2:00 - 4:00 PM
Winter Hours (Nov 1 - March 31) - call ahead due to weather conditions
Monday - Saturday 12:00 - 4:00 PM
Sunday - Closed
We are closed on Easter Sunday, Thanksgiving, Christmas, and New Year's Day. We accept Visa, MasterCard, Discover, and American Express.
Don't have time to visit us at the winery? Check out our wine shop, located between Winston-Salem and Greensboro, NC: